HOW DID YOU GET INTO ART AND MAKING?
I was always busy with art as a hobby as a child and nearly two years ago I started oilpaint classes, which after the realisation that I couldn't keep on nursing due to my health pushed me into the course of art, which I haven't regretted at all.
WHAT ART DO YOU LIKE TO MAKE?
I like to make art that is unusual and unexpected.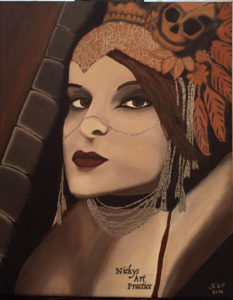 WHAT MATERIALS DO YOU USE?
Oilpaints, faber castel polychromos pencils, photoshop, acrylics and love to experiment.
HOW WOULD YOU DESCRIBE YOURSELF?
I am a designer artist in growth
WHAT OR WHO INSPIRES AND INFLUENCES YOUR WORK?
Nature and always looking for the beauty in the world around me. No matter how hard to find.
HOW HAVE YOU AND YOUR WORK CHANGED OVER TIME?
I have come from ugh I really don't like drawing to actually enjoying it. And am still growing with loads of materials and techniques. Physical or through technology.
WHAT CHALLENGES HAVE YOU FACED ALONG THE WAY?
I have Ehlers-danlos syndrome, which made me stop nursing because it wasn't healthy for me to stay on. I learned to believe in my capacity as an artist, as my mum never really believed in my art before, which has changed now. I used to have a poor self esteem, it's still a bit hard to believe in myself at times but having so many people supporting me, in and outside of the virtual art studio does wonders when I have a tough day.
WHAT HAS BEEN YOUR BIGGEST ACHIEVEMENT/S SO FAR? NO MATTER HOW BIG OR SMALL?
Being asked to sell my digital art as cards and getting a place in college as a mature student.
HOW DID IT FEEL TO EXPERIENCE THIS ACHIEVEMENT?
Wonderful and grateful for the opportunity.
WHAT DIFFICULTIES, DOUBTS OR FEARS DID YOU FACE AND HOW DID YOU OVERCOME THEM?
If I made the right decision to continue into art? I overcame it by listening to the people that like my work, to the satisfaction the work gives me and to see the progress I made.
WHAT OR WHO HAS HELPED YOU IN YOUR JOURNEY?
The virtual art studio, my former oilpaint teacher (she was the one that told me to definitely continue in this direction), my friends and my boyfriend whom all have been very supportive. As well as the Galway Vtos teachers whom believed in me.
IF SOMEONE COULD WAVE A MAGIC WAND AND MAKE AMAZING THINGS HAPPEN FOR YOU, WHAT WOULD BE YOUR DREAM?
Being able to live a proper healthy and well enough life in my own home. With the opportunity of making art for other people.