This is such a great question! We all seek inspiration and whether we know it or not, we find it organically every day. Out and about and through the digital wealth of the internet. 
Copyright dilemma 
Thanks to the internet, we have so much inspiration at our fingertips. From images on Google, Pinterest, Instagram… in fact any form of social media platform. So for us artists, it is great as we can go and find something and we can take inspiration from there. However, here lies the issue of copyright that you don't necessarily have when sourcing your inspiration from the outside world. 
As soon as we find an image on the internet that we like and want to use in some shape or form, we are then treading on dangerous ground because we enter the whole copyright dilemma. Is that image protected by somebody?  
Personal development
There is nothing wrong with copying/using other people's images as long as you do it in the right way. Whether you are using an image for the landscape, an actual artwork, a photograph of a sculpture – these are all amazing resources if you are trying a new technique, material or medium. This is how we learn and there is nothing wrong with that. 
What will happen is that over time you'll take these pieces of inspiration and create something new as your ideas, experience and techniques evolve. It's all for your own personal development to take an idea and just explore that. If it's staying in your sketchbook, you are absolutely fine. 
Sharing your work 
As soon as you want to share some work that you've created but have copied an image or piece – even if you don't intend on selling it – this can be an infringement of copyright. You don't have to be selling it, simply sharing it can be an issue. For example, if you're just sharing it on your social media saying "Hey, I've just created this artwork", if that image is protected by copyright, if it belongs to someone else, then by sharing it you've already breached the copyrights on it.
Copyright Top Tips
You want to be really, really careful with the images that you are recreating and sharing. But the great news is there are lots of things you can do to make sure that you're not using a copyright protected image.
If you find an image, the first thing to do is to have a look at the source – where did this image come from? Because if you can find out that information first, if you plan on using the image and sharing it afterwards, then you can decide pretty quickly whether you can use that image or not. There are a few ways that you can do this:
If you find an image on social media, you may want to reach out and ask the person sharing it whether they'd allow you to replicate that image in an artwork.

If you have found an image on Google, it may be a little unclear as to who the image belongs to. Google has the URL image.google.com which is a reverse image search. Here, you can type in the URL of the image source or upload the image and Google will scour the internet and show you all the locations where that image can be found. This is really useful because what that then gives you is insight into where the image came from originally.
It might direct you back to the website of where it originated from. If there are lots and lots and lots of images coming up in that search then it might even be that that image is classed as public domain. This is something else you can Google!
Round up 
So for me personally, if I was going to take an image, copy it and recreate the same image or piece of art which I was then going to share, this is copyright infringement. However, if you did this but aren't going to share it and it is for your own personal growth, that is fine. 
If you used an image as a source of inspiration and adapted so much so that you couldn't actually tell where you've taken that image from, then you are okay because you haven't copied the source. 
Find royalty free images. There are so many resources available online. Here are a few: 
https://www.flickr.com/photos/britishlibrary
https://www.metmuseum.org/collection/the-collection-online
https://www.pexels.com/royalty-free-images/
You can also download this amazing graphic from The Visual Communication Guy to help you: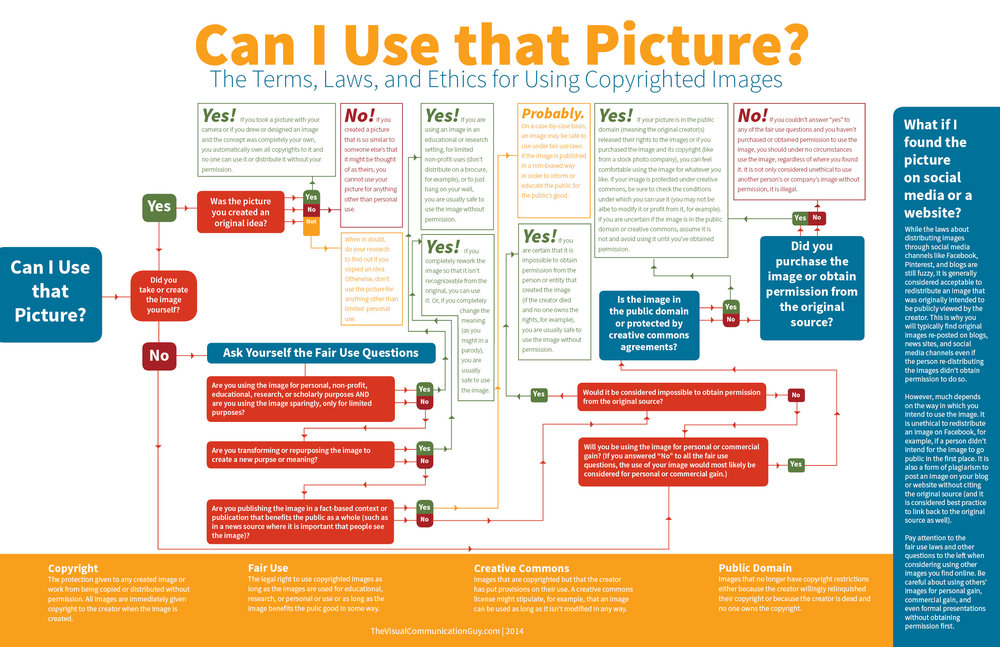 So if in doubt when sourcing an image, don't just use it. Do your checks first or head to a royalty free website as this is your best bet. 
I really hope this helps you! 
Much love, 
Michelle xo